At Haw'et, "handmade smørrebrød" open sandwiches cover everything we make from scratch. We prepare our open sandwiches with love and respect for good-quality, fresh ingredients, and we offer the service to match. We therefore serve all our open sandwiches individually, so you get to experience the very best.
Traditional matured marinated herring
with curry salad, eggs, onions and greens on rye bread
Red pickled herring
with onions, crispy capers, apple sour cream and greens on rye bread coated with dripping
Butter-fried plaice fillet
with homemade remoulade, greens and lemon on rye bread
Organic egg halves and hand-peeled shrimps
with Lemon Pearls and homemade herb mayonnaise on rye bread
Sun Above Haw'et
Smoked mackerel, shredded radish, chives and an organic egg yolk on rye bread
Haw'et's homemade chicken salad
with crispy bacon and greens on rye bread
Smoked duck breast
with horseradish cream combined like a modern Waldorf salad and served on toasted rye bread
Avocado with garlic cream
and grated radish, chives, garlic sprouts and Lemon Pearls on toasted rye bread
Roast beef with warm, soft onions
and homemade horseradish remoulade on rye bread
(fried egg + DKK 15)
Homemade freshly fried meatballs
on rye bread with homemade pickled red cabbage, gherkins and mustard mayonnaise.
"Gammel ost" (a traditional Danish mature cheese) served on toasted ryebread
with dripping, raw onions and homemade jelly made from beef stock
MARIA'S SPECIAL
– please ask the staff
Salad of the day
comprising seasonal greens with dressing and toast.
Please ask the staff for more info
dkk 179.-
Shrimp cocktail
with greens and toasted rye bread
dkk 149.-
"Haw´ets Perle (pearl)"
Butter-fried plaice fillets with marinated shrimps, fresh asparagus, avocado, egg halves and homemade dressing on toasted rye bread
dkk 219.-
Homemade "fiskefrikadeller" (fish meat balls)
with greens, homemade tartare sauce and freshly baked rye bread
dkk 189.-
Cheese Plate
4 Danish cheeses with greens, fresh fruit and homemade delicacies. Served with freshly baked bread
-Ideal for sharing
dkk 159.-
Haw'ets dessert of the day or a freshly baked bun
DKK 69.-
Haw'ets desert of the day or a freshly baked bun
served with a cup of coffee/tea
DKK 99.-
We have alternatives to rye bread.
If you have any allergies or any special requests, we would be happy to adapt our menu wherever possible.
| | | |
| --- | --- | --- |
| Carlsberg Pilsner | 25 cl kr. 40,- | 40 cl kr. 60,- |
| Tuborg Classic | 25 cl kr. 40,- | 40 cl kr. 60,- |
| Carlsberg 1883 Rebrew | | 50 cl kr. 70,- |
| Grimbergen Noël | | 50 cl kr. 70,- |
| Kronenbourg 1664 Blanc | | 50 cl kr. 70,- |
| | | |
| --- | --- | --- |
| Carlsberg Nordic Pilsner | 0,0% alkohol | 33 cl kr. 49,- |
| Brooklyn Special Effects | 0,4 % alkohol | 33 cl kr. 49,- |
| Kronenbourg 1664 Blanc | 0,0 % alkohol | 33 cl kr. 49,- |
| Crabbies Ginger Beer | 4,0% alkohol | 33 cl kr. 70,- |
Domaine Pellehaut Blanc 2021
Côtes de Gascogne 75 cl

pr. glas kr. 70,-
kr. 295,-
Oro de Castilla Verdejo 2020
Blanco Rueda 75 cl
pr. glas kr. 70,-
kr. 295,-
Domaine la Colombette 2021
Rosé 75 cl

pr. glas kr. 70,-
kr. 295,-
Chateau Lancyre Rosé 2020
Languedoc 75 cl
pr. glas kr. 70,-
kr. 295,-
| | |
| --- | --- |
| AVREVS (Aureus) - Mas Carlot 2021 Costières de Nîmes 75 cl | kr. 399,- |
Domaine du Bois de Saint Jean Rouge 2018
Côtes du Rhône 75 cl
pr. glas kr. 70,-
kr. 295,-
Château d'Emeringes Vieilles Vignes Rouge 2019
Beaujolais Villages 75 cl
pr. glas kr. 75,-
kr. 325,-
Seghesio Barbera d'Alba 2019
Rosso Monforte d'Alba 75 cl
kr. 375,-
Castello Solicchiata Secondo 2014
Rosso Sicilia 75 cl
kr. 375,-
Chateau Cantenac Grand Cru 2018
Saint Emilion 75 cl
1/2 fl. 37,5 cl kr. 299,-
kr. 599,-
Cantina Progettivini Prosecco Superiore
UNO Extra Dry* 75 cl

Pr. glas kr. 70.-
kr. 295,-
Domaine la Pinsonniere
Vouvray, Brut 75 cl

kr. 399,-
Domaine Collet Champagne
"Empreinte de Terroir", Brut 75 cl

kr. 599,-
| | | |
| --- | --- | --- |
| Rød Aalborg | 3 cl kr. 39,- | 6 cl kr. 69,- |
| Aalborg Harald Jensen | 3 cl kr. 39,- | 6 cl kr. 69,- |
| Aalborg Nordguld | 3 cl kr. 39,- | 6 cl kr. 69,- |
| Aalborg Export | 3 cl kr. 39,- | 6 cl kr. 69,- |
| Aalborg Porse | 3 cl kr. 39,- | 6 cl kr. 69,- |
| Brøndums Kummenaquavit | 3 cl kr. 39,- | 6 cl kr. 69,- |
| Lysholm Linie Aquavit | 3 cl kr. 45,- | 6 cl kr. 79,- |
| Gammel Opland | 3 cl kr. 45,- | 6 cl kr. 79,- |
| OP Anderson | 3 cl kr. 45,- | 6 cl kr. 79,- |
| Bitter | 3 cl kr. 45,- | 6 cl kr. 79,- |
| | | |
| --- | --- | --- |
| Kildevæld kildevand | 50 cl plastflaske | kr. 35,- |
| Ramlösa Premium Original | 33 cl plastflaske | kr. 35,- |
| Ramlösa Premium Citrus | 33 cl plastflaske | kr. 35,- |
| Fanta Orange | 25 cl flaske | kr. 35,- |
| Sprite | 25 cl flaske | kr. 35,- |
| Coca Cola | 25 cl flaske | kr. 35,- |
| Coca Cola Zero Sugar | 25 cl flaske | kr. 35,- |
| Schweppes Lemon | 25 cl flaske | kr. 35,- |
| Schweppes Indian Tonic | 25 cl flaske | kr. 35,- |
| Solita appelsinjuce | 27,5 cl flaske | kr. 45,- |
| Rynkeby æblemost | 27,5 cl flaske | kr. 45,- |
| Fuze Tea | 40 cl plastflaske | kr. 45,- |
| Hyldeblomstsaft, økologisk | 27,5 cl flaske | kr. 45,- |
| Hindbærbrus, økologisk | 25 cl flaske | kr. 45,- |
| Ginger Beer, økologisk | 27,5 cl flaske | kr. 49,- |
| | | |
| --- | --- | --- |
| Kaffe el. varm chokolade mm. | | kr. 45,- |
| Te fra Perch's Thehandel | | kr. 45,- |
| Irish Coffee el. gløgg | | kr. 79,- |
Cognac and liqueur or gin & tonic?
Please ask the staff
Carlsberg Pilsner
25 cl kr. 40,- 40 cl kr. 60,-
Tuborg Classic
25 cl kr. 40,-  40 cl kr. 60,-
Carlsberg 1883 Rebrew
50 cl kr. 70,-
Grimbergen Noël
50 cl. kr. 70,-
Kronenbourg 1664 Blanc
50 cl kr. 70,-
Carlsberg Nordic Pilsner
0,0% alkohol 33 cl kr. 49,-
Brooklyn Special Effects
0,4 % alkohol 33 cl kr. 49,-
Kronenbourg 1664 Blanc
0,0 % alkohol 33 cl kr. 49,-
Crabbies Ginger Beer 4,0% alkohol 33 cl kr. 70,-
Domaine Pellehaut Blanc 2021
Côtes de Gascogne 75 cl
pr. glas kr. 70- kr. 295,-
Oro de Castilla Verdejo 2020
Blanco Rueda 75 cl
pr. glas kr. 70,- kr. 295,-
Domaine la Colombette 2021 Rosé 75 cl
pr. glas kr. 70,- kr. 295,-

Chateau Lancyre Rosé 2020 Languedoc 75 cl
pr. glas kr. 70,- kr. 295,-
AVREVS (Aureus)- Mas Carlot 2021 Costières de Nîmes, 75 cl kr. 399,-
Domaine du Bois de Saint Jean Rouge 2018
Côtes du Rhône 75 cl
pr. glas kr. 70,- kr. 295,-
Château d'Emeringes Vieilles Vignes Rouge 2019
Beaujolais Villages 75 cl
pr. glas kr. 75,- kr. 325,-
Seghesio Barbera d'Alba 2019
Rosso Monforte d'Alba 75 cl
kr. 375,-
Castello Solicchiata Secondo 2014
Rosso Sicilia 75 cl
kr. 375,-
Chateau Cantenac Grand Cru 2018
Saint Emilion 75 cl
1/2 fl. 37,5 cl kr. 299,- kr. 599,-
Cantina Progettivini Prosecco Superiore
UNO Extra Dry* 75 cl
Pr. glas kr. 70.-
kr. 399,-

Domaine la Pinsonniere
Vouvray, Brut 75 cl
kr. 399,-

Domaine Collet Champagne
"Empreinte de Terroir", Brut 75 cl
kr. 599,-

Rød Aalborg
3 cl kr. 39,-
6 cl kr. 69,-
Aalborg Harald Jensen
3 cl kr. 39,-
6 cl kr. 69,-
Aalborg Nordguld
3 cl kr. 39,-
6 cl kr. 69,-
Aalborg Export
3 cl kr. 39,-
6 cl kr. 69,-
Brøndums Kummenaquavit
3 cl kr. 39,-
6 cl kr. 69,-
Lysholm Linie Aquavit
3 cl kr. 45,-
6 cl kr. 79,-
Gammel Opland
3 cl kr. 45,-
6 cl kr. 79,-
OP Anderson
3 cl kr. 45,-
6 cl kr. 79,-
Bitter
3 cl kr. 45,-
6 cl kr. 79,-
Kildevæld kildevand
50 cl plastflaske kr. 35,-
Ramlösa Premium Original
33 cl plastflaske kr. 35,-
Ramlösa Premium Citrus
33 cl plastflaske kr. 35,-
Fanta Orange
25 cl plastflaske kr. 35,-
Sprite
25 cl plastflaske kr. 35,-
Coca Cola
25 cl plastflaske kr. 35,-
Coca Cola Zero Sugar
25 cl plastflaske kr. 35,-
Schweppes Lemon
25 cl plastflaske kr. 35,-
Schweppes Indian Tonic
25 cl plastflaske kr. 35,-
Solita appelsinjuce
27,5 cl plastflaske kr. 45,-
Rynkeby æblemost
27,5 cl plastflaske kr. 45,-
Fuze Tea
40 cl plastflaske kr. 45,-
Hyldeblomstsaft, økologisk
27,5 cl plastflaske kr. 45,-
Hindbærbrus, økologisk 25 cl flaske kr. 45,-
Ginger Beer, økologisk 27,5 cl flaske kr. 49,-
Kaffe el. varm chokolade
kr. 45,-
Te fra Perch's Thehandel, flere forskellige
kr. 45,-
Irish Coffee el. gløgg
kr. 79,-
Cognac and liqueur or gin & tonic?
Please ask the staff
The restaurant is open daily

Monday 11:00 – 17:00
Tuesday 11:00 – 17:00
Wednesday 11:00 – 17:00
Thursday 11:00 – 17:00
Friday 11:00 – 20:00
Saturday 11:00 – 20:00
Sunday 11:00 – 17:00
The kitchen's opening hours
Monday - Thursday 11:30 – 16:30
Friday - Saturday 11:30 – 19:30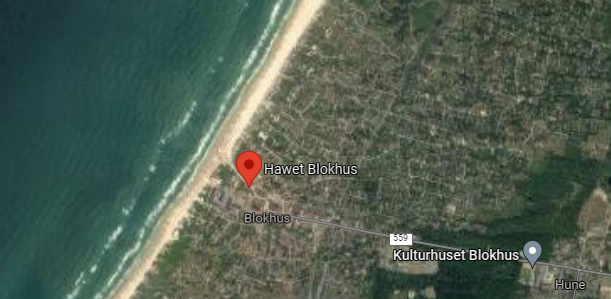 Send us a message
Write to us if you have questions about opening hours, menu or special events
Find us
Strandvejen 9 - 9492 Blokhus